Need Help?
NZ:
0800 000 860
| International:
+64 9 929 3000
|
email
Introducing MDaemon Messaging Server
New Features... Same Affordable Price!
Share and Manage Documents from MDaemon's Web Mail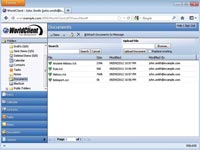 Document sharing has been added to provide a central repository for documents to be accessed and shared by designated users. Document folders have full ACL (access control list) controls that can be used to set permissions and sharing rules (e.g., read only, download only, etc.).
All file types can be shared through the system. Improved search capabilities make it easy to search shared documents filename for easy retrieval, review, and attachment to new messages.
Mobile Device Management for BYOD Environments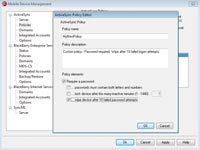 MDaemon now includes a single interface to easily manage the growing Bring Your Own Device (BYOD) environments of SMB /SMEs. Smartphones and tablets that run Android, iOS, Windows and BlackBerry can be managed from a single user interface within MDaemon's console or via its remote administration screen (WebAdmin). Devices can be managed via Microsoft ActiveSync or MDaemon's integrated BES to select pre-defined, IT mobile policies such as, require passwords, wipe lost or stolen devices, etc. or create custom ones that fit your environment.
Enhanced ActiveSync for MDaemon Features & Support
Enhance your mobile device security through updated ActiveSync policies. You can manage pre-defined policies and create your own policies from the new Mobile Device Management screen. Policies can be created from among the following 4 elements (more elements may be added in future versions as they become possible to achieve with ActiveSync)*:
"Require a password" - include this policy element to force the ActiveSync device to require a password and to enable selection of other policy elements which require a password to be present.
"Passwords must contain both letters and numbers" - include this policy element to force a more complex form for ActiveSync device passwords (requires "Require a password" policy element enabled).
"Lock device after inactivity" - include this policy element to force the device to the lock screen after a specified time of no activity.
"Wipe device after 10 failed password attempts" - include this policy element to wipe all device content (return to factory install settings) following 10 consecutive failed password attempts.
Autodiscover (or auto detect) Service: A user can easily create an account on their mobile device by entering their email and password. They do not need to know their server name to set-up the email service.
*Note: Not all ActiveSync devices recognize or apply policy consistently. Some may ignore policy altogether and others may require a device reboot before changes take effect (defeating the purpose of many of the policy elements). Also, no policy is applied until the next time the device connects on its own to the ActiveSync server.
Drag and Drop Email Attachments for Greater Productivity
MDaemon's web mail feature, WorldClient, allows you to select multiple files and attach them to a message via a simple drag & drop method. This functionality is supported in the LookOut theme using HTML5 enabled browsers, such as Chrome or Firefox.
Protect Your Company's Brand with Hijacked Account Detection
Spammers continue to hijack SMB / SME email accounts (similar to open relay hijacking) and use them to send hundreds or thousands of spam messages from unsuspecting users and businesses. Undetected, this has the potential of putting your company's IP address and domain name on a Realtime Blackhole List (RBL) or DNS Blackist (DNSBL). MDaemon's Hijacked Account Detection feature will detect, disable, and notify the IT administrator of accounts that send too many messages in a given timeframe. MDaemon allows the email administrator to configure settings for the number of messages and time (in minutes) to establish the parameters that best fit an organization's environment.
Manage Support Using the Public Folder Ticketing System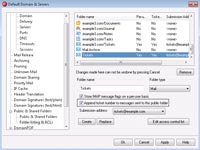 A ticketing system refers to a web-based email communication system allowing for users to quickly contact the sales or technical support team of the host at any time and receive relevant responses to any inquiries or issues that may arise.
MDaemon now allows public folders to be configured with message ticketing using any client with access to public folders.
In certain business environments, discussing one issue by email may become difficult to follow, since the message thread may be confusing and an email may be eventually lost after being sent back and forth between both parties numerous times. With the ticketing system – a trouble ticket allows for a long-term communication over one topic in a convenient interface without minimal risk of the messages being lost.
If this is enabled for a public folder, MDaemon will add the public folder name and a unique identifier to the subject of messages sent to the submission address of the public folder. This feature can be used with all clients that have public folder access. Outbound messages having this specially formatted subject will have the "From" address changed to the submission address of the public folder and a copy of the outbound message will be placed into a child public folder named "Replied To". In addition, any inbound messages with this specially formatted subject will be automatically redirected to the public folder, regardless of the address the message was sent to.
Improve IMAP Performance over Low Bandwidth Connections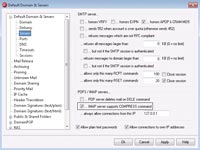 The goal of MDaemon's IMAP COMPRESS feature is to reduce the bandwidth usage of IMAP. For low bandwidth connections, this can improve performance when retrieving data from large folders.
The IMAP server now supports the COMPRESS extension, which compresses all data sent to and from the client. This helps reduce the bandwidth used by IMAP. This does require extra memory and CPU usage per IMAP session.
The IMAP response from new mail check compresses up to 90%. Message headers and bodies compress between 50-70% and text with repeated patterns compress better than random text. Compression rates will vary by environment.
You can disable COMPRESS support via a new option under Setup | Default Domain & Servers | Servers.
View Traffic and Mailbox Performance
Administrators can select "Traffic" or "Mailbox" within the Status menu to gain a graphical view of basic email patterns, top users and other key stats. The information can be exported as image or .pdf files.
Additional Improvements to Remote Management (WebAdmin)
New Mobile Devices Menu
All mobile device management features, including ActiveSync, SyncML, BIS and BES, have been moved to this menu for easy management of mobile devices under one consolidated section.
Holding Queue
Review any messages which cause software exceptions during the AntiVirus, AntiSpam, or Content Filter processing. You can read more about the Holding queue here.
SecurityPlus Configuration
Allows you to enable antivirus scanning for mail traffic and customize actions taken to infected messages when SecurityPlus is installed on the MDaemon server.
More
Domain Sharing dialog and Export to Public Address Book options are now exposed (for parity with MDaemon Server UI settings).
Improved Support for Virtual Environments
Virtualized applications can serve as on-demand cloud-based services that can be run locally or via a hosted, third-party provider. By fully supporting all Windows virtualization platforms, including VMWare, Amazon EC2, and others to support the advancement in virtualization technology, MDaemon administrators can obtain greater scalability and flexibility for their customers and businesses.
The MDaemon Messaging Server is a leader in email security using a layered approach (with SecurityPlus for MDaemon) offering proactive protection against email-borne threats of spam, viruses, and phishing. MDaemon Messaging Server uses the advanced email authentication techniques of Vouch By Reference (VBR) and validates and signs messages using DKIM, DK, Sender-ID, and SPF.
MDaemon Messaging Server is a globally trusted mail server and a solid alternative to Microsoft Exchange, with prices starting as low as NZD 213.00 + GST (MDaemon Standard 6 User). Buy now or download a free 30-day fully-functional trial to experience its powerful features, easy administration, and low total cost of ownership for your business.
The current version of MDaemon is 23.5.1.
| | |
| --- | --- |
| | Copyright © 2023 TNZ Group LTD. - Sole NZ Distributor for Alt-N Technologies. |